"That's it!" says Jurgen Klopp. "That's the new trend!"
He is talking about the Champions League, and the recent success of teams playing away from home in the knockout stages. Home advantage? Not this season. Not so far, anyway.
Last week saw three of the four away teams win to progress to the quarter-finals. Manchester United become the first team in the competition's history to progress having lost 2-0 at home in the first leg, while Ajax made history with their evisceration of Real Madrid in the Bernabeu, overturning a 2-1 deficit from the Amsterdam Arena.
Tottenham, of course, built a healthy advantage in their first leg with Borussia Dortmund, but still had enough to go and beat the Bundesliga hopefuls in their own back yard. A good week for travellers, no doubt.
Klopp would be delighted if that "trend" were to continue, of course. But unlike United, unlike Ajax, his Liverpool team know a score draw will be enough to edge them past Bayern Munich, whom they meet in the Allianz Arena on Wednesday night.
It promises to be an intriguing night in Bavaria, the tie delicately poised following a goalless first leg at Anfield three weeks ago.
In the aftermath of that meeting, it was suggested that Bayern would be the happier side, but the threat of an away goal will always loom large, particularly given Liverpool's potency on the counter-attack.
"It doesn't make a massive difference that we didn't score at home," says Klopp. "I like this situation. If we have all the players available and can really go for it, then we are in a good moment and it is a big chance for us.
"Last season, we were 5-0 up [against Porto], 3-0 up [Manchester City] and 5-2 up [Roma] from the first legs, but all we can use from that is our experience.
"Usually the game is not decided after the first game. We have to know that. We are not like kids thinking if we do not win it in the first leg we have no chance. We are still in it, for sure."
Klopp is likely to solidify his side by replacing Adam Lallana with Jordan Henderson in midfield, though Liverpool's away form in Europe this season remains a cause for concern. They lost all three of their group games on the road, scoring only once – and even that was a penalty.
"I do not think about that," he insists. "I can imagine people think like that, but all the games were completely different.
"The [Red Star] Belgrade game was a bad game from us; the worst game we played in any competition. You could not explain it. So, you cut it off.
"Playing in Paris is not a nice place to go, especially when they need a result. The third, Napoli, yes they were just good. It was nothing to do with playing away. It was not our best football.
"That is how we see it. It is not that we are not able to perform in an away atmosphere."
Bayern head into the game buoyed by a 6-0 win over Wolfsburg, which saw them leapfrog Dortmund at the top of the Bundesliga. Niko Kovac's side are now strong favourites to land their seventh successive league crown.
Liverpool are embroiled in a title race of their own, of course, and kept themselves firmly in the hunt with a hard-fought victory against Burnley on Sunday.
The suggestion from some – Gary Neville included – is that exiting the Champions League would help the Reds' league chances, enabling Klopp to manage his resources and narrow his players' focus.
Unsurprisingly, the man himself disagrees.
"They talk constantly," he grins. "It doesn't [mean they] make more sense because of that. That's the problem.
"It is so easy to sit in an office or a studio and talk about things like that. We draw a season and say the best way to go through it is to go out of all the cup competitions early.
"Then, you do that and in that moment the same people go for you like mad. It's like: 'You are disrespectful to the competition.'
"Now it is closer to the end of the season and it is allowed that we go out of the Champions League without even trying to go through? That's really mad!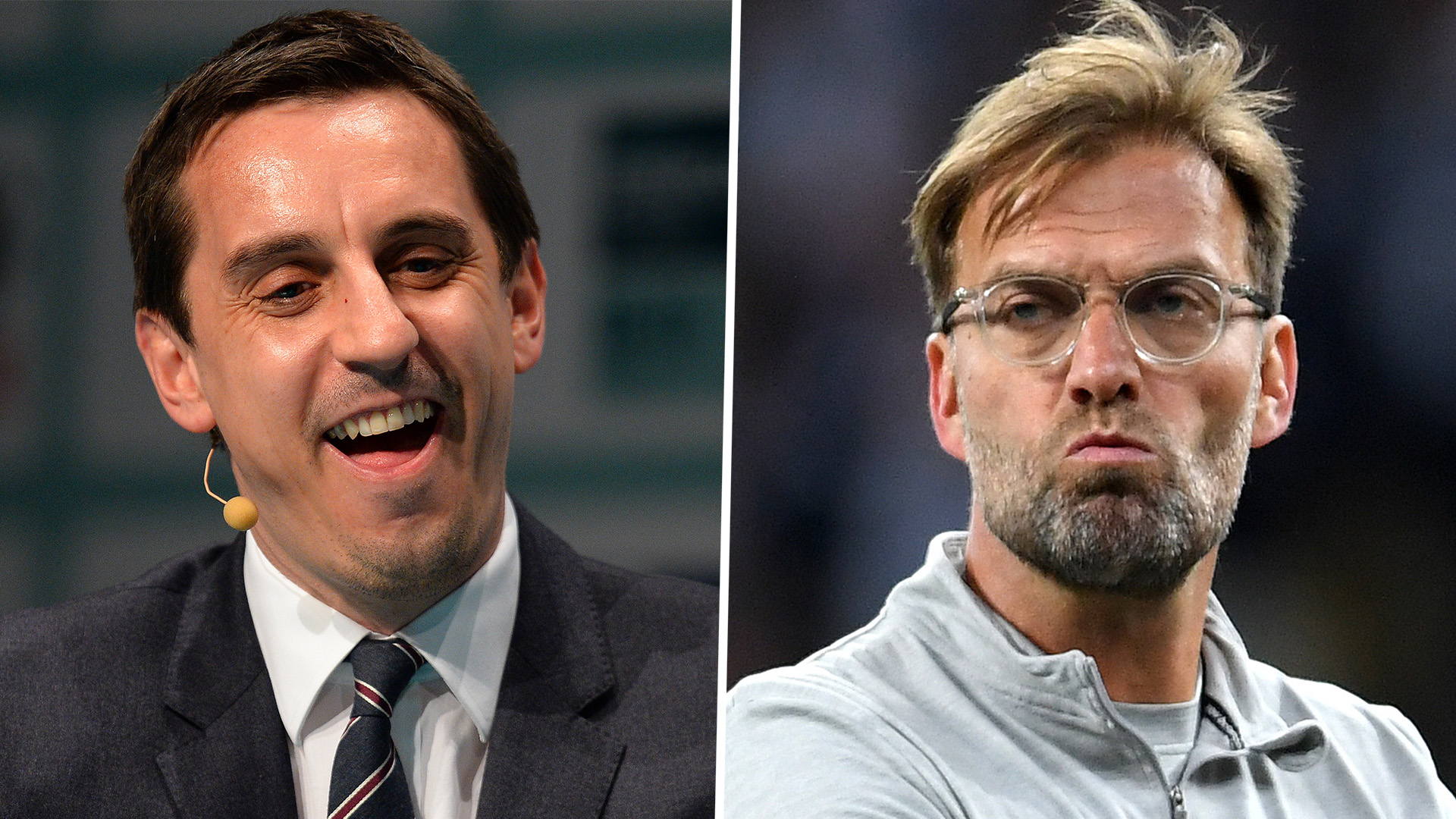 "That's the reason why they don't have a job on the sideline. I mean it. It's one of the reasons. No criticism but it's a big difference to be in charge or to talk about somebody in charge. That's a massive difference.
"We play proper, real football and we try to win every game. Now it is the next one, it is the only one we play on Wednesday night, so let's try and win it."
Still, it is fair to wonder whether this game carries less pressure than, for example, last season's Champions League ties.
Klopp himself has admitted that the Premier League is the trophy his fans want, and rarely have Liverpool been better placed to deliver it. Does the Champions League's importance, then, fade somewhat?
"It is important to everyone," he says. "The only thing I would say is that if we go out, maybe the fans won't be outstanding or exceptional angry – 'How can that happen!' – because we still have a chance with the league. I don't think they will think before the game 'I hope we go out' or something like that."
He adds: "There is no real pressure. I only see it as an opportunity. We cannot think about the league in a moment like this. What can we do? Change all the players, make six, seven changes and try with a kind of 'B' team?
"You have to go into this game with all you have, use the opportunity and try everything you can. Win it or go out. Everyone knows you can go out against Bayern and no-one will say: 'How could that happen?' That's how we see it. Clear.
"We wanted and we still want to prove our value again in Europe."
Victory over Bayern would certainly do that. In fact, it would slot comfortably alongside the great European triumphs in Liverpool's illustrious history.
"We have a chance," Klopp says, defiantly. "And that is all we need."