Just 24 hours after the Portuguese's brilliant hat-trick against Atletico Madrid, the Argentine put on a show at Camp in a 5-1 win over Lyon
They may now be playing in different countries but the rivalry between Lionel Messi and Cristiano Ronaldo rumbles on and on.
Having watched the former Real Madrid striker score a hat-trick to send Juventus through to the Champions League quarter-finals on Tuesday night, the Barcelona captain put on a spectacular show of his own a day later.
The Argentine was sensational as he struck two and set up two more as the Catalans thrashed Olympique Lyonnais 5-1 to earn their place in Friday's draw.
Editors' Picks
After a goalless last 16 first leg in France left this clash evenly poised at Camp Nou, a special Messi and a special Barca display helped the Catalans ease past determined, clever opponents.
The first half in particular will go down as perhaps Barcelona's best team performance of the season, even if it was in the second that Messi rose head and shoulders above the rest.
The last two times Barcelona played with this much intensity and connection between each line of their team were the Copa del Rey final in 2018, a 5-0 win over Sevilla, and earlier this season in the Champions League, in the first half of a 4-2 win at Tottenham Hotspur.
What links those games? As well as being high-pressure matches in cup competitions, Philippe Coutinho also played well and scored in both. The Brazilian was on target again here, in his finest performance of the season.
It has been a miserable campaign for the €160 million forward, who has been drowning at Camp Nou. Handed yet another chance thanks to Ousmane Dembele's hamstring tweak, Coutinho took it with both hands.
This was a 'plugged-in' performance, showing speed of thought and invention which he has badly lacked this season.
Why did this kind of display come up now? It's hard to say for certain but the drive Messi offered the team as captain propelled everyone forward.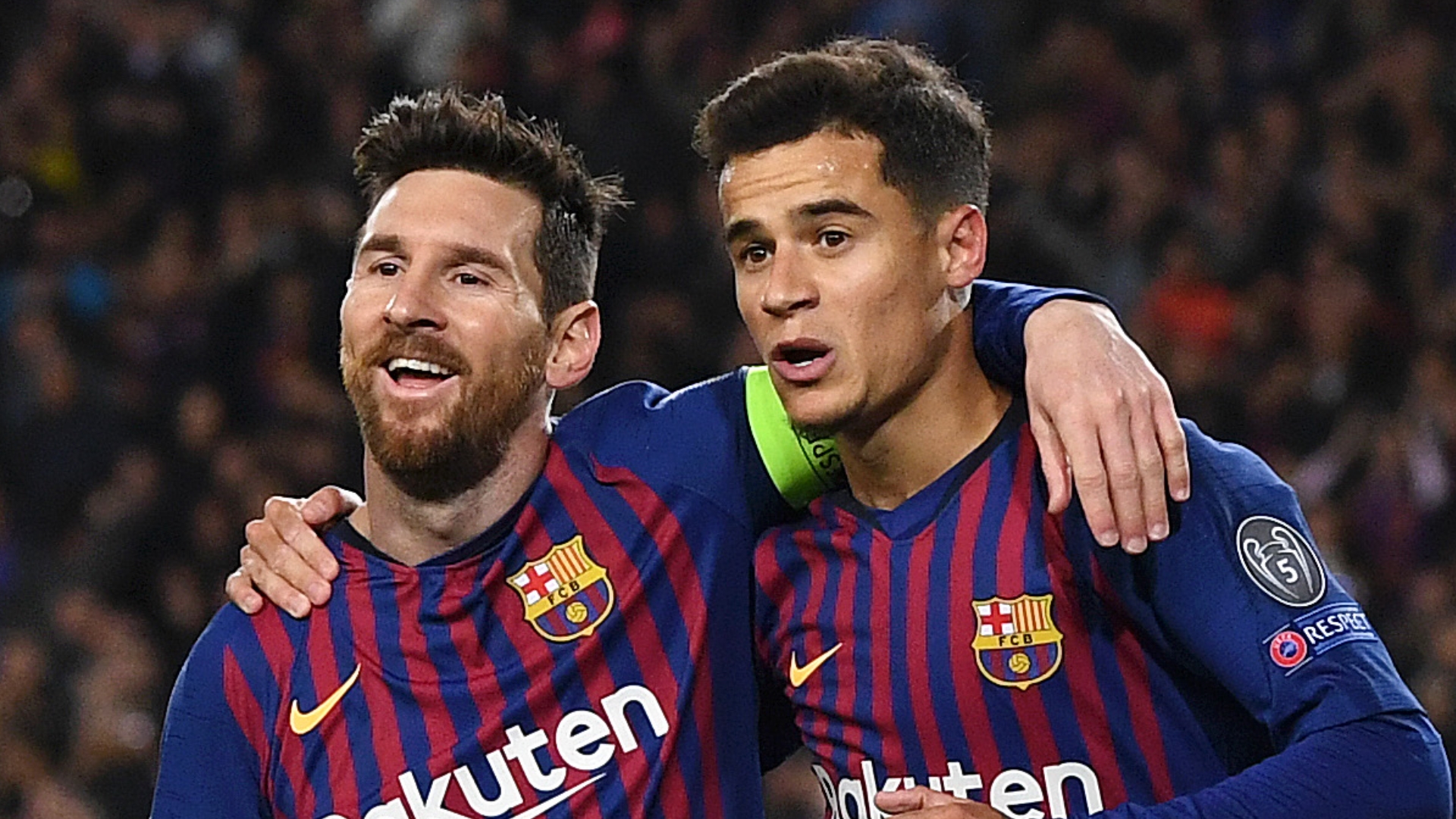 The Argentine star is not accustomed to chasing back and making tackles back in his own half but he twice came back deep to rob the ball and start attacks.
It was Messi at the start of the season who gave a speech to the fans about being determined to win the Champions League, having seen Madrid lift the trophy three years running.
Despite having the best player in the world, and of all time, in their ranks, Barcelona have lifted the European Cup just once in the last seven years.
Messi is on a one-man mission to change that and broke the deadlock with a perfectly executed Panenka penalty. "We mean business," it screamed.
Luis Suarez was a leader too, in many ways. As well as setting a fantastic example in work-rate and performance level, he was supportive, applauding Coutinho for trying to press the defence, even though it's not the Brazilian's favourite pastime.
Suarez teed up Coutinho for the second, with a wonderful piece of control on the edge of the box and a dart forward, before squaring for his team-mate.
The first moment the Catalans let their concentration levels slip, Lyon capitalised, with Lucas Tousart smashing home after a scramble in the box.
It sucked the air out of Barcelona for a moment and memories of their painful elimination against Roma quickly surfaced, but Messi put a lid on them.
The Argentine secured progress in a quick-fire burst of pure creativity. One mazy dribble left, then right, bamboozled the defence and he squeezed home the third.
Then he set up Gerard Pique and Dembele for two more goals as Barca racked up a big scoreline which speaks volumes for their intentions this season.
Messi is determined to write Barcelona's name on the trophy.