The centre-half is playing as well as ever, exuding authority at the back for the Blaugrana, but his Brazilian team-mate still looks lost at Camp Nou
It seemed like Barcelona were going to commit the crime of letting Atletico Madrid back into the title race, but Gerard Pique turned up at the right time to arrest a potential slide.
Following his phenomenal displays at the Santiago Bernabeu last week, the centre-half levelled for the Catalans in an eventual 3-1 win over Rayo Vallecanothat keeps the league leaders seven ahead of the second-placed Rojiblancos with 11 games to go.
"On the pitch Pique deactivates danger calmly, but with the authority of a police commissioner," former Real Madrid manager Jorge Valdano wrote in the build-up in a column for El Pais .
"He constructs moves with infinite class, in an almost provocative way. I have the impression that Pique is in love with himself, and, given what we saw in the Clasicos, he has every right to be."
Facing Rayo Vallecano is several steps down the ladder from a meeting with Real Madrid but Pique maintained his high-calibre performance levels at Camp Nou.
This game marked the start of the title run-in, with last week's huge double Clasico victories, in the Copa del Rey and La Liga, finally allowing Barcelona to starting thinking about the treble.
Nobody is saying it is likely because the Champions League could, as ever, throw up all manner of complications, but they are in rude health in the Primera Division and already through to a Cope final against Valencia.
The key to securing their seventh league title in 10 years will be managing to survive games like these, while making some changes to keep key players fresh for European matches.
That's what Ernesto Valverde did here with Wednesday's last 16 second leg against Lyon in mind.
Ivan Rakitic, Clement Lenglet and Ousmane Dembele were all given a break, with Arturo Vidal, Samuel Umtiti and Philippe Coutinho stepping in to replace them.
As well as the squad players delivering, Barcelona need the big stars to step up in those matches. Not all of them did.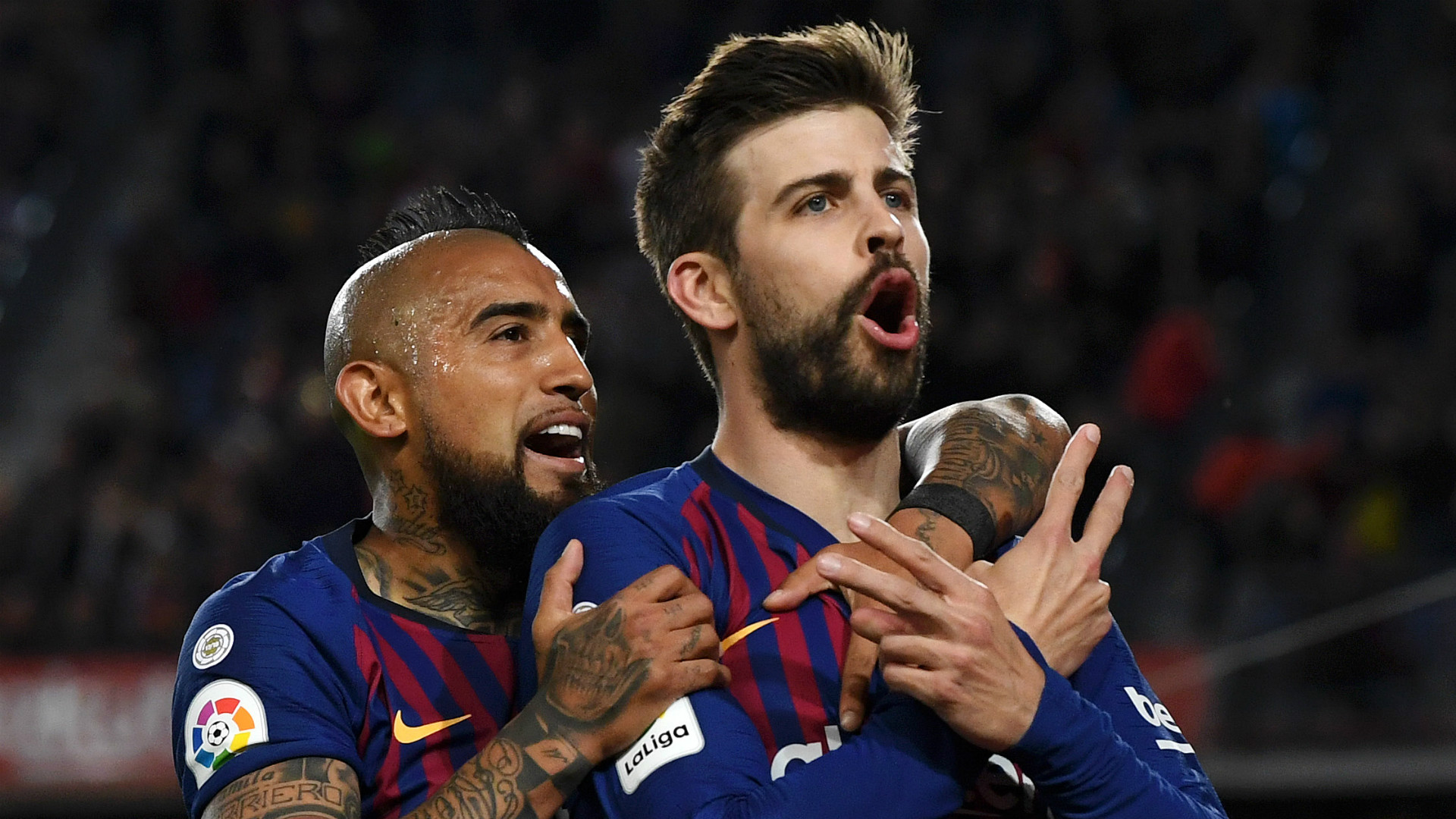 Pique put in a captain's display, even though he doesn't wear the armband. But Coutinho did not fulfil his end of the bargain, sinking deeper into the mire he finds himself in at Barcelona since his club-record €160 million signing from Liverpool last year.
That's why this clash against Rayo, who have now lost six matches in a row, was at times trickier than it should have been.
Raul de Tomas, on loan at Rayo from Real Madrid, smashed in the opening goal but just when it seemed like the impending visit of Lyon might distract Barcelona from the task at hand, Pique arrived on the scene, sirens blazing, to get the situation back under control.
The defender rose to meet Lionel Messi's free-kick and the second his boots left the ground there was no doubt what the outcome would be.
Barcelona's head boy has now nodded in three goals this season – more than any other defender in the Primera Division.
But the Catalans lacked fluency in attack.
Coutinho is too slow to play on the left wing, where he was deployed in the first half, and seemingly not sharp or tough enough to play in an Arthur-esque role in midfield.
One Barca break saw Suarez and Messi – both 31 years of age – charging forward but only Arturo Vida – also 31 – was in the box with them. Coutinho was nowhere to be seen. Dembele would have been up with the play, ready to pounce.
When Coutinho was eventually removed, with 10 minutes to go, the crowd – while not getting on the Brazilian's back – reacted with indifference.
Instead, they cheered loudly for Rakitic's introduction, chanting his name, just as they had for Pique after he scored.
Immediately after the Brazilian was withdrawn, Barcelona scored a sensational third.
It was a slick team move ending with Coutinho's replacement, Rakitic, teeing up Luis Suarez to tuck home from close range.
Suarez was another player, like Pique, who delivered for Valverde, as the team's heavyweights must in these games where rotation plays a part.
Coutinho is the third most expensive player in football history but he is not offering any value for money; his performances almost criminal in that sense.
In truth, Camp Nou looks too big a stage for him.
By contrast, it is where Pique was born to play, and exert his authority.
Please follow and like us: