It was thought that the Liverpool defender was a shoo-in for the prize but Man City's main man strengthened his case with a hat-trick against Watford
There may be significant doubt about the legality of Raheem Sterling's opening goal for Manchester City against Watford but there can be no uncertainty around his status as one of the Premier League's very best players, if not the best.
Sterling has improved his game immeasurably in the past two seasons. Indeed, this year he is even better than last.
In many ways, he sums City's improvement as a collective, too. Pep Guardiola says his side are even better than last season's 'Centurions', even if a 100-point tally this time around is mathematically impossible.
The Catalan feels their determination and their consistency across four competitions means they have gone up a level from the team that sparkled so brilliantly in the Premier League last year.
And in that sense, Sterling is even better as well. He is always there for his team; a man for the clutch moments.
Leroy Sane won the PFA Young Player of the Year award last season, and he certainly did enough to do so, but there were plenty who felt Sterling had the more consistent campaign.
The England international also scored vital late goals as City put together their record-breaking 18-game winning streak and ultimately their record-breaking title win.
He is even more consistent now, and while those last-minute highlights may have fallen away, he is simply a more dangerous threat at any given moment.
Last season, he scored 18 goals and provided 11 assists in the league. He also created 54 chances from open play and 11 'big' chances.
This season, he has 15 goals and nine assists already, and even before he kicked a ball against Watford on Saturday he had created 55 chances from open play and 11 big chances. There are eight games to go.
And on afternoons like Saturday, he has not needed to pop up with late goals because he has made decisive contributions much earlier.
Granted, his first goal should never really have stood. If he was not offside then how can we ever know who is offside ever again under the current laws?
There was another stroke of luck about it, too, as the ball cannoned back off him and into the back of the net.
But with all of those caveats out of the way, he focused on taking centre stage.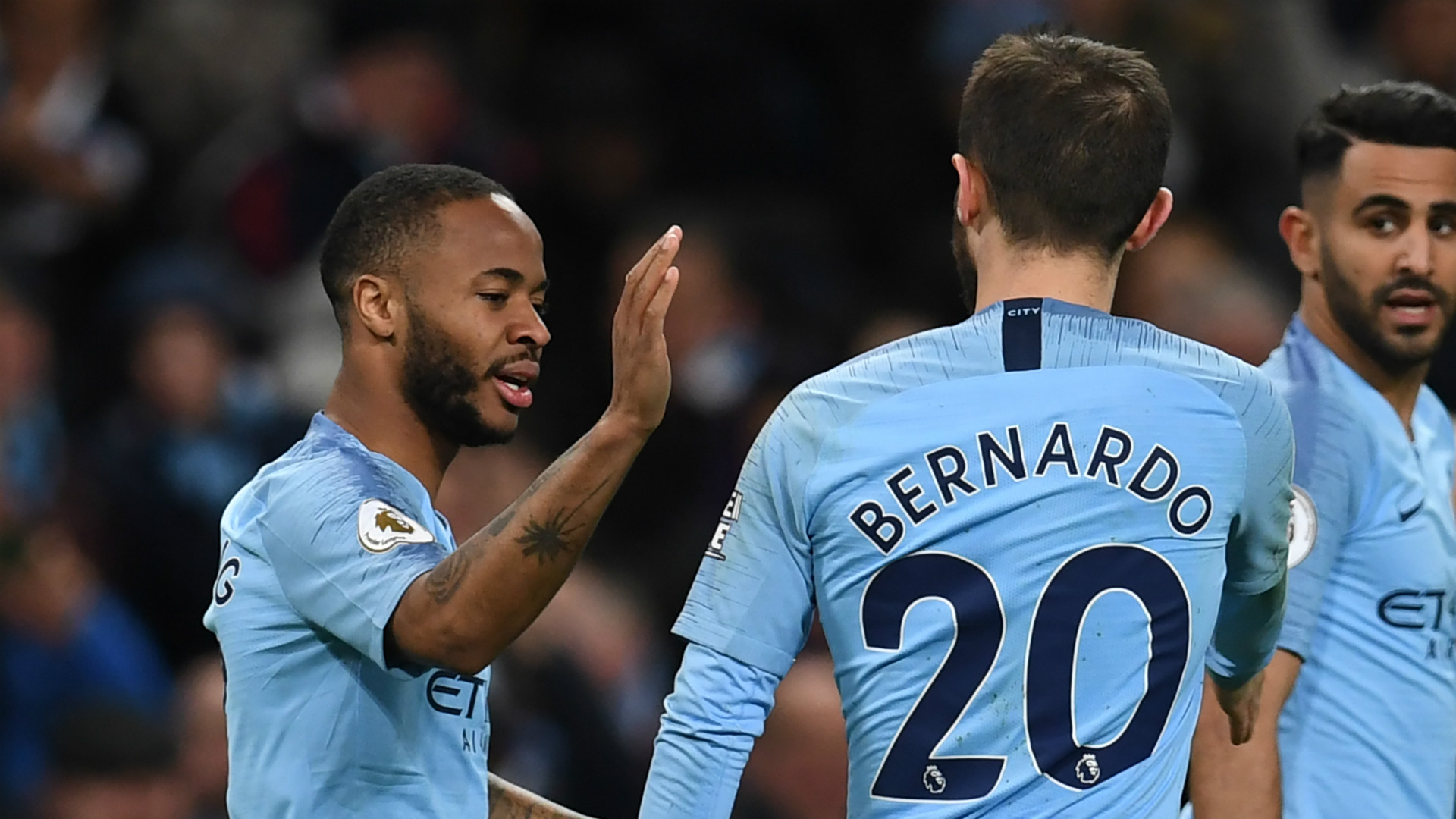 Within moments he popped up at the far post, ready and waiting in acres of space to tap the ball in from a matter of inches. He has become the tap-in king at a team that specialises in scoring tap-ins.
In years gone by, it would be considered an insult to be somebody who only scores tap-ins but you cannot score this many in this manner and have it be dismissed as pure luck.
He was doing it throughout last season and he is still doing it now. It highlights he has the tactical intelligence to be in exactly the right place at the right time. Given he is playing in a Guardiola team, that is incredibly valuable.
And then, for his next trick, he showed he can score so-called 'harder' goals anyway.
Collecting a sliderule David Silva pass in behind the Watford right-back position, he cut inside and instead of sliding the ball across for somebody else to score a tap-in, he took a touch inside, then another, dropped a shoulder, swivelled a hip, sat Ben Foster down and chipped it over him.
It was a thing of beauty. It was also the fastest Premier League hat-trick since Romelu Lukaku's for Everton v Sunderland in September 2016 – just 13 minutes and 12 seconds between the goals.
At the moment, Sterling is doing all of this from the left-hand side, keeping Sane out of the team.
The German is not having a bad season by any means but it speaks volumes for Sterling's consistent threat that he is the one chosen to start on that flank, not just in the more winnable games but indeed in the biggest, such as against Arsenal and Chelsea, including the Carabao Cup final.
He could not wriggle clear of the excellent Chelsea system that day but he did step up to score the winning penalty, perhaps another sign of improvement, this time in terms of temperament.
That day at Wembley he was City's hero and he was yet again against Watford. He has always been one of the more maligned Premier League players but even his doubters have to start taking notice that this guy is one of the best players around at the moment.
In the next few weeks his fellow players will cast their votes for player of the year. Virgil van Dijk has been a revelation for Liverpool, but surely Sterling will run him all the way. 
Please follow and like us: